Say HELLO to Tropical Style Trend! This amazing trend is growing increasingly popular this year so we show you some inspirations of how you can transform your home into a tropical retreat.
Let yourself be inspired by this article and give your house a fresh new feeling for summer.
Could banana leaves and palm trees really be chic?! A deep-dive into Pinterest pages, décor magazines, and designers' blogs says Hell Yes! Tropical Style looks so damn good on decorating pieces like pillows or trays. Also, it's an amazing inspiration for lighting or even upholstery pieces.
Being that, take a look at these pieces below to get on trend and imbue some tropical flair into your home décor. It will make you feel like you're on a permanent vacation.
We are super excited to see it popping up everywhere.
Arrow Suspension Lamp by Creativemary
Inspired by the Japanese Arrow bamboo leaf, Creativemary designers have created the Arrow Suspension Lamp. Also, this contemporary suspension lamp is all made of polished brass to shine in your living room.
Lily Suspension Lamp by Creativemary
Inspired by the Calla Lily leaf, Creativemary designers have created the Lily Suspension Lamp. Above all, this is a modern golden lighting piece that will give the perfect mood lighting for every moment.
Tropical textiles are the first thing you probably think of, but the look can live anywhere. So, take a look at this sideboard handcrafted in solid walnut wood and with details in rattan and genuine leather. That establishes a connection between tradition and modernity, allying the imponent, but also natural traces of a luxury ranch in the middle of Brazil.
Salamanca Wall Lamp by Creativemary
Inspired by the tradition and high-end style of the Barrio of Salamanca, Creativemary designers created Salamanca Wall Lamp.
Jayne Mid-Century Modern Armchair by Ottiu
This armchair will be the ultimate eye-catching of your tropical décor.
Furthermore, green is a reference collor in every tropical décor. So, from bottle-green upholstery furniture to green rugs, all shades of green are a key colour in every interior right now.
Also, it's timeless in every respect, and works beautifully with natural elements and neutral tones.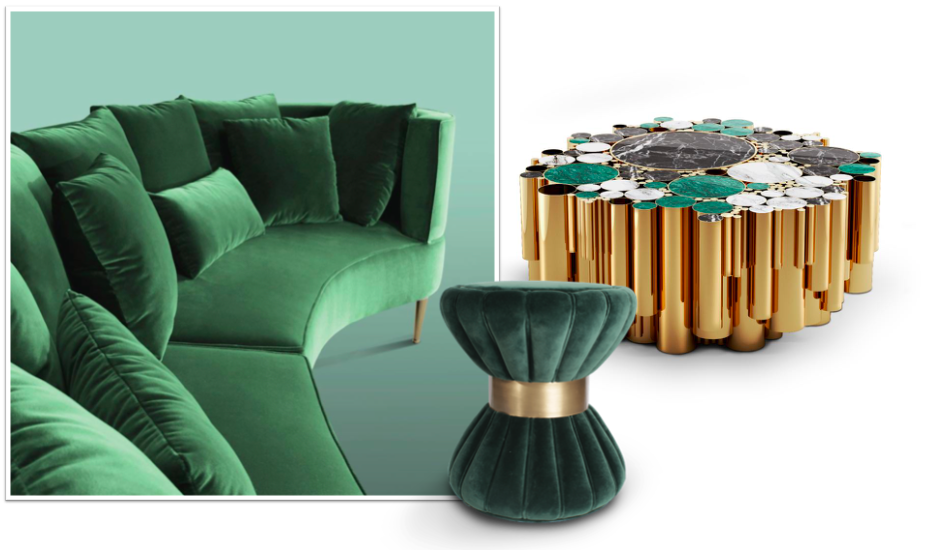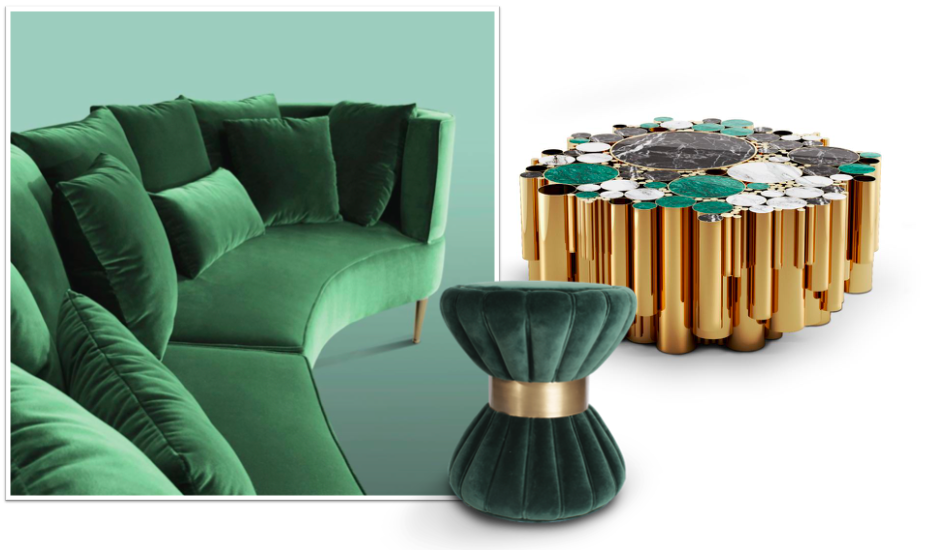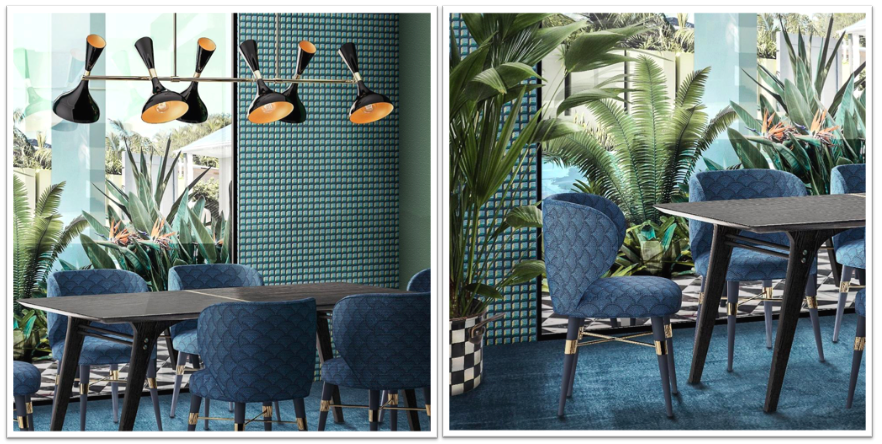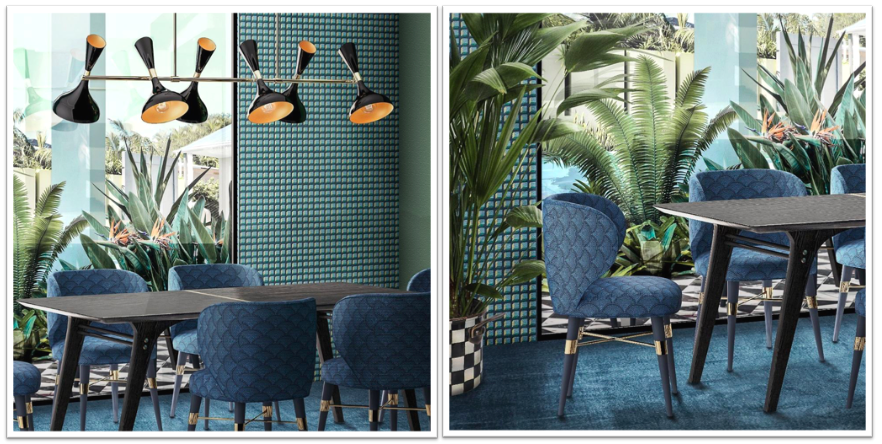 Subsequently, wood is an essential in every tropical décor. Furthermore, the most organic of building materials gives these spaces a warm, inviting vibe.
Being that, discover these pieces of furniture by Wood Tailors Club.
Finally, discover this dining table at Wood Tailors Club. Also, take a look at Ottiu to find out this glamorous dining chairs. In order to complete any tropical ambiance, find out this exquisite suspension lamp by Creativemary.
In sum, palm trees, sparkling waters, and sandy beaches are just some of the perks of living in a tropical location in Central or South America. So, if you want to feel like you are living in that type of paradise, just transform your home décor with the Tropical Style.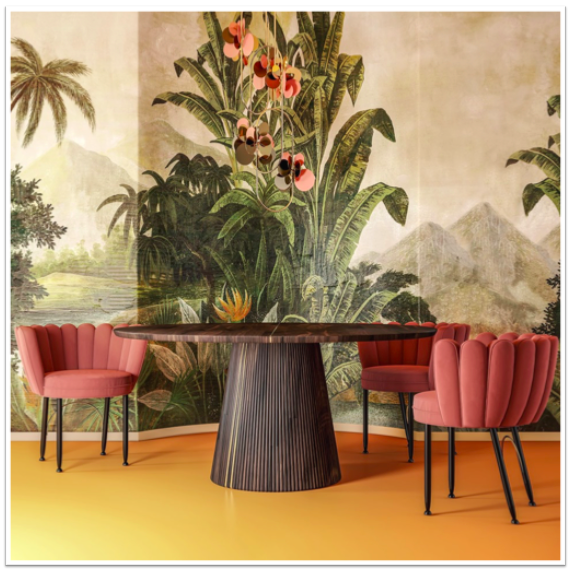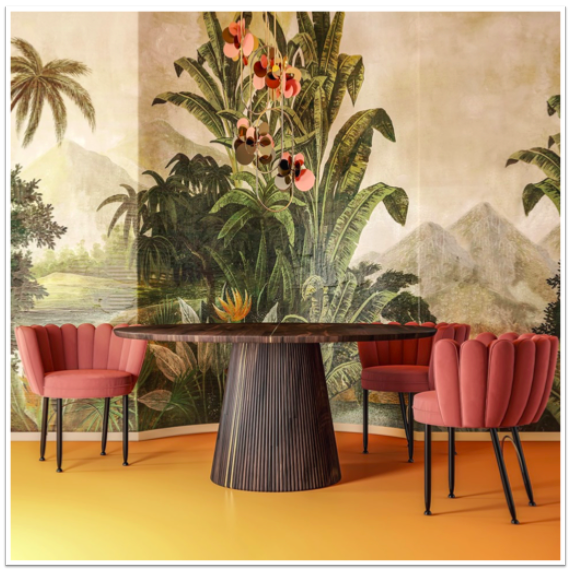 You might also like: Living Coral: A Vibrant Color For This Summer
What's your opinion about this article? We are totally in love with the tropical style trend. So, if you want to keep being inspired by the most recent décor trends or luxury interior design stay tuned to our blog.
---